Magnetic beads for cell separation
Custom camel or camelid antibodies, nanobodies labeling with small beads for positive selection of 50 nm.
All kind of tags can be added to you camle antibody. FLAG, GFP, HA.

The beads and the fc will be integrated in your sell and expulsed by exocytosis.
Except for CD11 monocytes that will be activated by the positive selection.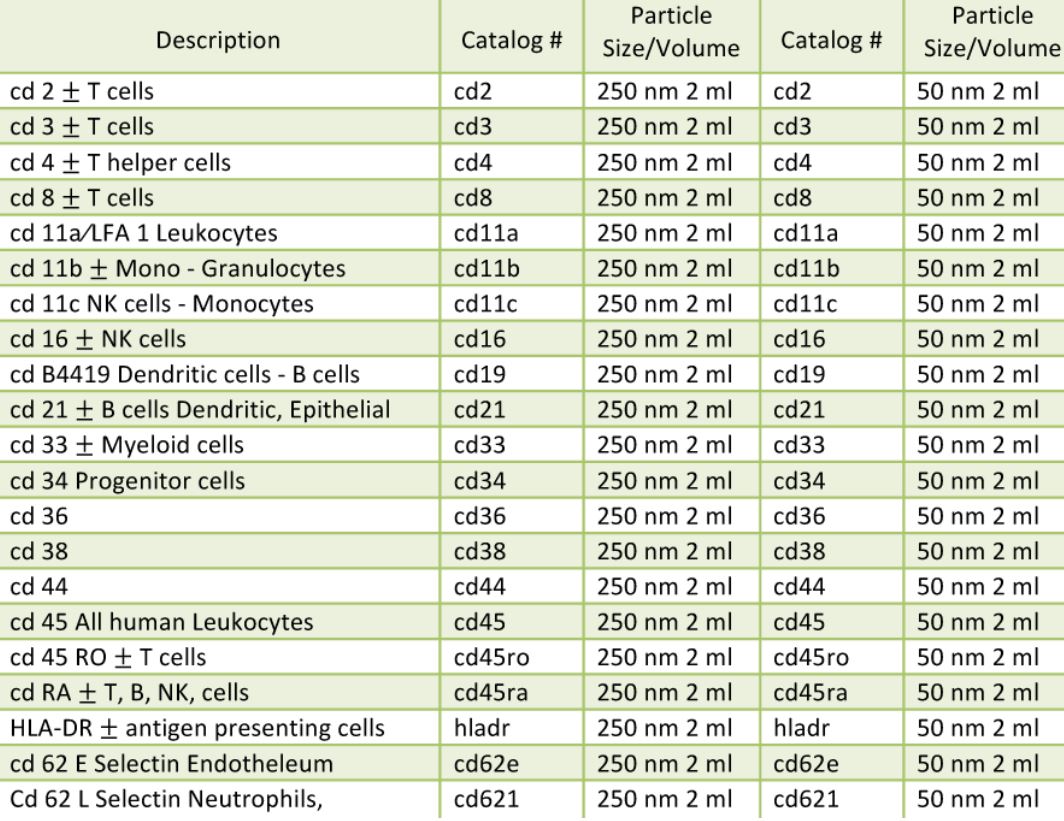 CD11 cannot be selected by positive magnetic selection to be put back in culture.
T cells, NK cell, B cells can be selected by the very small 50 nm beads. These beads are so small that since the first use of positive selection by Stephen Miltenyi in 1996 it would have been known if they prevent reculturing lymphocytes.
However the cell state could be slightly changed by positive magnetic selection, like for monocytes CD11.

Thats why we use 250 nm beads for negative selection. The 250 nm beads are much more preformant in taking out cells. As sales representative for Miltenyi we expetiences a lot of times in the laboratory of Professor Goldman in ULB Erasme that CD34 positive selection for reculture and reinjection in lymphocyte depleted patients was a perfect solution. This was before the use of the Clinimacs. Especially in 1998 in Liege Sart Tilman this was a much used protocol and we can now tell that these labs where the precursers of CD34 selection for in vivo therapeutic use.
Lieven Gevaert, Bio-ir. Gent 1996, Scientific Director Gentaur BV, Brussels

Vaslilyi Abaev, Ms. Biotechnology, Sofia 2009, Scientific custom conjugation Manager Gentaur LTd. London

Camel beads are easlily biotinilated and thant couple to streptavidin magnetic beads
ID
HUMAN CELL SURFACE MOLECULES
Catalog #
Size/Volume

Price
Euro
Catalog #
Size/ Volume
Price

Euro

1
cd 2 ± T Cells
cd2 250
250 nm 2 ml
350
cd2 50
50 nm 2 ml
450
2
cd 3 ± T Cells
cd3 250
250 nm 2 ml
350
cd3 50
50 nm 2 ml
450
3
cd 4 ± T Helper Cells
cd4 250
250 nm 2 ml
350
cd4 50
50 nm 2 ml
450
4
cd 5 ± Thymocytes
cd5 250
250 nm 2 ml
375
cd5 50
50 nm 2 ml
475
5
cd 6 ± Mature T Cells
cd6 250
250 nm 2 ml
375
cd6 50
50 nm 2 ml
475
6
cd 7 Thymocytes,T/pre B,NK
cd7 250
250 nm 2 ml
375
cd7 50
50 nm 2 ml
475
7
cd 8 ± T Cells
cd8 250
250 nm 2 ml
350
cd8 50
50 nm 2 ml
450
8
cd 9 platelets, pre B,mono,endothelia,epithilia
cd9 250
250 nm 2 ml
375
cd9 50
50 nm 2 ml
475
9
cd 10 ± Granulocytes
cd10 250
250 nm 2 ml
375
cd10 50
50 nm 2 ml
475
10
cd 11a/LFA 1 Leukocytes
cd11a 250
250 nm 2 ml
375
cd11a 50
50 nm 2 ml
475
11
cd 11b ± mono -Granulocytes
cd11b 250
250 nm 2 ml
385
cd11b 50
50 nm 2 ml
500
11c
cd 11c NK Cells, Monocytes
cd11c 250
250 nm 2 ml
375
cd11c 50
50 nm 2 ml
475
12
cd 13 ± gran, mono,mast and GM progenitors
cd13 250
250 nm 2 ml
375
cd13 50
50 nm 2 ml
475
13
cd 14 ± mono
cd14 250
250 nm 2 ml
385
cd14 50
50 nm 2 ml
500
14
cd 15 ± Granulocytes
cd15 250
250 nm 2 ml
410
cd15 50
50 nm 2 ml
500
15
cd 16 ± NK cells
cd16 250
250 nm 2 ml
375
cd16 50
50 nm 2 ml
475
16
cd 18 ± monocytes, lymphocytes
cd18 250
250 nm 2 ml
375
cd18 50
50 nm 2 ml
475
17
cd B4419 dendritic cells, B cells
cd19 250
250 nm 2 ml
395
cd19 50
50 nm 2 ml
475
18
cd 20 pre,resting and activated B Cells
cd20 250
250 nm 2 ml
375
cd20 50
50 nm 2 ml
475
19
cd 21 ± B Cells dendritic and some epithelial
cd21 250
250 nm 2 ml
375
cd21 50
50 nm 2 ml
475
20
cd 22 ± B Cells
cd22 250
250 nm 2 ml
395
cd22 50
50 nm 2 ml
475
21
cd 23 ± mature B cells
cd23 250
250 nm 2 ml
350
cd23 50
50 nm 2 ml
450
22
cd 25 ± Activated T/B cells
cd25 250
250 nm 2 ml
375
cd25 50
50 nm 2 ml
475
23
cd 27 ± Thymocytes, Mature T lymphocytes
cd27 250
250 nm 2 ml
375
cd27 50
50 nm 2 ml
475
24
cd 31 plate, mono, gran,lympho,endothelial
cd31 250
250 nm 2 ml
375
cd31 50
50 nm 2 ml
475
25
cd 33 ± myeloid cells
cd33 250
250 nm 2 ml
395
cd33 50
50 nm 2 ml
475
26
cd 34 Progenitor cells
cd34 250
250 nm 2 ml
395
cd34 50
50 nm 2 ml
475
27
cd 45 all human leukocytes
cd45 250
250 nm 2 ml
395
cd45 50
50 nm 2 ml
475
28
cd 45 RO ± T Cells
cd45ro250
250 nm 2 ml
395
cd45ro50
50 nm 2 ml
475
29
cd 45 RA ± T, B, NK cells
cd45ra250
250 nm 2 ml
395
cd45ra50
50 nm 2 ml
475
30
HLA-DR ± antigen Presenting Cells
hla250
250 nm 2 ml
385
hladr50
50 nm 2 ml
450
31
cd 56 ± NK Cells
cd56 250
250 nm 2 ml
395
cd56 50
50 nm 2 ml
450
| | | | | | | | |
| --- | --- | --- | --- | --- | --- | --- | --- |
| | | | | | | | |
| ID | HUMAN CELL SURFACE MOLECULES | Catalog # | Volume | Price | Catalog # | /Volume | Price |
| 32 | cd 62E Selectin endotheleum | cd62e 250 | 250 nm 2 ml | 395 | cd62e | 50 nm 2 ml | 450 |
| 33 | cd 62 L Selectin Neutrophils, monocytes,T,B | cd62l 250 | 250 nm 2 ml | 395 | cd62l50 | 50 nm 2 ml | 475 |
| 34 | cd 62 P Selectin | cd62p250 | 250 nm 2 ml | 395 | cd62p50 | 50 nm 2 ml | 475 |
| 35 | cd 71 Transferrin Receptor | cd71 250 | 250 nm 2 ml | 450 | cd71 50 | 50 nm 2 ml | 475 |
| 36 | cd 90 [Thy-1] early cd34 and mature cd34 | cd90 250 | 250 nm 2 ml | 475 | cd90 50 | 50 nm 2 ml | 575 |
| 37 | cd 114 G-CSFR neutrophils,myeloid,endothel | cd114 250 | 250 nm 2 ml | 475 | cd114 50 | 50 nm 2 ml | 575 |
| 38 | cd 116 GM-CSFalpha, non blocking | cd116 250 | 250 nm 2 ml | 475 | cd116 50 | 50 nm 2 ml | 575 |
| 39 | cd 116 GM-CSFalpha,blocking | cd116 250 | 250 nm 2 ml | 475 | cd116b50 | 50 nm 2 ml | 575 |
| 40 | cd 121a IL-1R non blocking | cd121a250 | 250 nm 2 ml | 475 | cd121a50 | 50 nm 2 ml | 575 |
| 41 | cd 121a IL-1R blocking | cd121ab250 | 250 nm 2 ml | 475 | cd121ab50 | 50 nm 2 ml | 575 |
| 42 | cd 128 [IL-8RA] mono, gran | cd128 250 | 250 nm 2 ml | 475 | cd12850 | 50 nm 2 ml | 575 |
| 43 | cd 130 [gp 130] T,B | cd130 250 | 250 nm 2 ml | 375 | cd130 50 | 50 nm 2 ml | 450 |
| 44 | cd 152 [CTLA-4] | cd152 250 | 250 nm 2 ml | 475 | cd152 | 50 nm 2 ml | 575 |
| 45 | cd 154 [CD40L] Activated T | cd154 250 | 250 nm 2 ml | 475 | cd154 50 | 50 nm 2 ml | 575 |
| 45a | Anti Caveolin | cav250 | 250 nm 2 ml | 550 | cav50 | 50 nm 2 ml | 650 |
| 45b | Epithelial Specific Antigen | esa250 | 250 nm 2 ml | 400 | esa50 | 50 nm 2 ml | 475 |
| | MOUSE CELL SURFACE MOLECULES | | | | | | |
| 46 | cd 4 ± T cells | cd4m250 | 250 nm 2 ml | 395 | cd4m50 | 50 nm 2 ml | 495 |
| 47 | cd 5 ± T,B cells | cd5m250 | 250 nm 2 ml | 395 | cd5m50 | 50 nm 2 ml | 495 |
| 48 | cd 8a T cells | cd8am250 | 250 nm 2 ml | 395 | cd8am50 | 50 nm 2 ml | 495 |
| 49 | cd 11b ± Macrophages/Monocytes | cd11bm250 | 250 nm 2 ml | 395 | cd11bm50 | 50 nm 2 ml | 495 |
| 50 | cd 19 ± B cells | cd19m250 | 250 nm 2 ml | 395 | cd19m50 | 50 nm 2 ml | 495 |
| 51 | cd 43 - non b | cd43m250 | 250 nm 2 ml | 395 | cd43m50 | 50 nm 2 ml | 495 |
| 52 | cd 45 ± Leukocytes | cd45m250 | 250 nm 2 ml | 395 | cd45m50 | 50 nm 2 ml | 495 |
| 53 | cd 45R ± Leukocytes | cd45rm250 | 250 nm 2 ml | 395 | cd45rm50 | 50 nm 2 ml | 495 |
| 54 | cd 90 ± T cells | cd90m250 | 250 nm 2 ml | 395 | cd90m50 | 50 nm 2 ml | 495 |
| | SECONDARY ANTIBODIES | | | | | | |
| 55 | goat anti Mouse IgG [H + L chains] | gam250hl | 250 nm 1 ml | $400 | gam50hl | 50 nm 1 ml | 800 |
| 56 | Rat anti Mouse IgG 1 | ram250 1 | 250 nm 2 ml | 300 | ram50 1 | 50 nm 2 ml | 350 |
| 57 | Rat anti Mouse IgG 2a | ram250 2a | 250 nm 2 ml | 300 | ram50 2a | 50 nm 2 ml | 350 |
| 58 | Rat anti Mouse IgG 2b | ram2502b | 250 nm 2 ml | 300 | ram502b | 50 nm 2 ml | 350 |
| 59 | Rat anti Mouse IgM | ram250m | 250 nm 2 ml | 300 | ram50m | 50 nm 2 ml | 350 |
| 60 | Goat anti Rat IgG [H + L chains] | gar250hl | 250 nm 2 ml | 300 | gar50hl | 50 nm 2 ml | 350 |
| 60a | Goat anti Mouse IgG Saporin Conjugated | gams250 | 250 nm 2 ml | 625 | gams50 | 50 nm 2 ml | 725 |
Particle Size/
List
Particle Size
List
ID
COMMON CAPTURE/BASE PARTICLES
Catalog #
Volume
Price
Catalog #
/ Volume
Price
61
Streptavidin
sab250
250 nm 2 ml
350
sab50
50 nm 2 ml
400
62
Protein A
pab250
250 nm 2 ml
325
pab50
50 nm 2 ml
375
63
Activated Particle Protein Coat [Amine groups]
apb250
250 nm 1 ml
280
apb50
50 nm 1 ml
350
64
Protein Coated Magnetite
pcm250
250 nm 1 ml
275
pcm50
50 nm 1 ml
350
65
Silica Coated Magnetite
si250
250 nm 1 ml
300
si50
50 nm 2 ml
375
66
Carboxyl Function Protein Coat
cb250
250 nm 1 ml
300
cb50
50 nm 1 ml
375
68
Sulffhydryl Function Protein Coat
sf-250
250 nm 1 ml
350
sf-50
50 nm 2 ml
375
69
Avidin
av250
250 nm 2 ml
300
av50
50 nm 2 ml
375
ANTIBODIES TO APOPTOSIS PROTEINS
70
Human Bcl-2 [B cell Lymphoma 2]
bcl2-250
250 nm 2 ml
450
bcl2-50
50 nm 2 ml
550
71
Human Fas [CD95/APO-1]
fas250
250 nm 2 ml
450
fas50
50 nm 2 ml
550
72
Human Fas Ligand T and NK Cells
fasl250
250 nm 2 ml
500
fasl50
50 nm 2 ml
600
73
Mouse Fas [CD 95]
fasm250
250 nm 2 ml
500
fasm50
50 nm 2 ml
600
74
Mouse Fas Ligand [CD 95 Ligand]
fasml250
250 nm 2 ml
475
fasml50
50 nm 2 ml
600
75
Human p53
p53250
250 nm 2 ml
475
p5350
50 nm 2 ml
600
LABELED PARTICLES & ANTIBODIES
82
5 Bromo-2-Deoxyuridine [BrdU].
brd250
250 nm 2 ml
300
brd50
50 nm 2 ml
375
84
Green Fluorescent Protein
gfp250
250 nm 1ml
350
85
Anti Alkaline Phosphatase
aalk250
250 nm 2 ml
400
aalk50
50 nm 2 ml
500
86
Anti Brdu
abrd250
250 nm 2 ml
300
abrd50
50 nm 2 ml
350
87
Anti FITC
afit250
250 nm 2 ml
300
afit50
50 nm 2 ml
350
88
Anti Horseradish Peroxidase
ahrp250
250 nm 2 ml
300
ahrp50
50 nm 2 ml
350
89
Anti Biotin
abi250
250 nm 2 ml
275
abi50
50 nm 2 ml
350
90
Anti AFP [for the detection of GFP's]
afp250
250 nm 2 ml
350
afp50
50 nm 2 ml
425
91
Blue Fluorescent Protein
bfp250
250 nm 1 ml
350
Particle Size/

List
Particle Size
List
ID
FUSION PROTEIN TAGS
Catalog #
Volume
Price
Catalog #
/ Volume
Price
92
Anti c MYC [Human]
myc250
250 nm 2 ml
325
myc50
50 nm 2 ml
395
93
Polyclonal Rabbit anti DNP
dnp250
250 nm 2 ml
350
dnp50
50 nm 2 ml
400
94
Anti M1
flgm1250
250 nm 2 ml
375
flgm1-50
50 nm 2 ml
475
95
Anti M2
flgm2-250
250 nm 2 ml
375
flgm2-50
50 nm 2 ml
475
96
Anti M5
flgm5-250
250 nm 2 ml
375
flgm5-50
50 nm 2 ml
475
97
N-Terminal FLAG -BAP protein
flgn250
250 nm 2 ml
350
flgn50
50 nm 2 ml
450
98
C-Terminal FLAG BAP protein
flgb250
250 nm 2 ml
350
flgn50
50 nm 2 ml
450
99
Monoclonal mouse anti GST
gst250
250 nm 2 ml
325
gst50
50 nm 2 ml
400
100
Polyclonal Rabbit anti HA
ha250
250 nm 2 ml
350
ha50
50 nm 2 ml
450
101
5-Rox [Rhodamine]
rox250
250 nm 2 ml
325
rox50
50 nm 2 ml
375
MOLECULAR BIOLOGY
102
Oligo dT
oli250
250 nm 2 ml
350
61
Streptavidin
sab250
250 nm 2 ml
350
sab50
50 nm 2 ml
400
121
DEAE
DEAE250
250 nm 2 ml
395
deae50
50nm 2 ml
450
SEPARATORS, REAGENTS, & SUPPLIES
Description
Price
Use
l
.
Msp
Small volume 250 nm separator
125
250 nm

Inquire about custom separators

MICROBIOLOGY PRODUCTS
103
Anti E. Coli 0157 Monoclonal
0157-200
250 nm 2 ml
375
O157-50
50 nm 2 ml
$475
104
Prion Protein [PrP] monoclonal ,neurons,astro
PrP250
250 nm 2 ml
375
105
Campylobacter jejuni
cam250
250 nm 2 ml
375
106
H.pylori [ all antigens]
hpy250
250 nm 2 ml
375
107
Listeria Monocytogenes [all antigens]
lis250
250 nm 2 ml
375
108
Salmonella sp. [group]
sal250
250 nm 2 ml
375
109
Anti E. coli 0157 Polyclonal
O157-200P
200 nm 2 ml
375
O157-50P
50 nm 2 ml
$475
Orders are taken by phone, fax, email, or mail. Please include your purchase order number. Prices are F.O.B. Belgium, and subject
to change without notice. Shipping and handling fees will be prepaid and reflected on the invoice. Orders are shipped by TNT Express